The CMV Inspection Form for the TraCS software is an easy to use, federally compliant, TraCS module for conducting roadside and fixed scale inspections of trucks, buses, and other commercial motor vehicles.


Intuitive Interface

No tabs to navigate


TraCS electronic forms look like traditional paper forms making them easier to navigate and complete
The Brake Measurement Databar allows you to easily record measurements from any brake type
Smart Logic functionality built in
Access Inspections From Anywhere

Add, View, and Edit inspections from any connected computer


No need to edit inspections in SafetyNet if you don't want to; make all your changes in TraCS
Add rich text narratives and comments to your inspection reports
Attach any kind of file or picture directly to the inspection report
Geo-locate Inspections

Add Latitude and Longitude coordinates to each inspection


The GPS enabled TraCS Location Tool (TLT) allows you to geo-locate an inspection by simply clicking on a map
Analyze inspection data across your state and map the results
Interfaces

Interface with other systems to make data entry even easier


Access to GIER for looking up IEP information directly in TraCS
Query Carrier and Driver information from your CVIEW or 360 SmartView system
Interface with the Inspection Selection System (ISS) and PRISM
Barcode Imager Capable

Scan barcodes from DLs, Registrations, and Commercial CAB cards directly into TraCS


Fill out the Carrier, Driver, and Vehicle information on the inspection with the push of a button
Citations

Create pre-filled citations for each inspection violation with the click of a button


Auto populate Citations and other TraCS forms with information from the inspection
Updates

Automatically update so you are always current


Get federal violation and regulation updates immediately when available
Receive the latest versions of the TraCS software when released
Reporting

Report on your inspection data from any TraCS computer


Make queries on the fly with Ad-Hoc reports
Create and save Analysis reports for regular daily, weekly, or monthly needs
Data Transmission

Transmit inspections directly to FMCSA SAFER and/or SafetyNet


Automatically send inspection data once the inspection has been approved
Validation

Ensure the inspection is accurate and correct with embedded federal validation rules and edit checks


TraCS Commercial Motor Vehicle Form
CMV Inspection Form
Conduct inspections roadside or at a fixed scale. The TraCS CMV Inspection form contains all of the tools you need.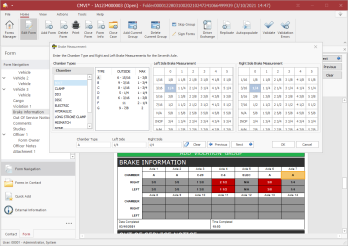 Brake Measurement Databar
Easily record each brake measurement with a simple click interface. Out of specification brake measurements automatically turn red.